1. Personal Service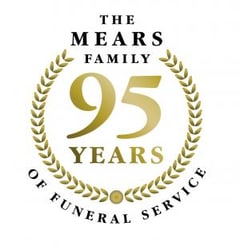 Mears Family Funerals are able to manage every element of the tribute to your loved one. From detailed funeral arrangements to the repatriation of the deceased, from personalised floral designs to the erection of a lasting memorial, we provide help and support at every step.

We have, as a family, been caring for the Bereaved for four generations

Yet, you'll only have to deal with one person, your local Manager, who will be available and responsible for ensuring that everything is as you want it to be.
Highly Experienced Aylesbury Funeral Directors
Mears of Aylesbury funeral directors are always available to help with your advanced funeral planning needs, whether cremation or burial. Whether burial or cremation, our funeral directors and counsellors can help create a customised and personalised service that will be meaningful to you, as well as to friends and family.

We are available for any unique funeral arrangements. If you are considering attended or unattended funeral - we offer personal service, advice and guidance. Our funeral costs are reasonably priced when compared to other funeral directors in Aylesbury Vale and surrounding areas. We have all the qualities of a good funeral director. Attention to detail is something we take seriously.

There is no greater honour than being able to help those in need during their time of mourning. When people come to us for advice about how they should handle a loved one's death, we always try to be as helpful as possible - whether it's by giving them direction on the types of services that will be best or providing them with information about what happens next. Our funeral directors are not only concerned with helping those who have lost someone close, but also making sure that everyone who comes into contact with our funeral home has a great experience.

There are many things that make a funeral director great. We will share some of them with you here:

- We know what your family needs to feel supported during this difficult time.

- Our staff is trained, caring & compassionate.

- We have an excellent reputation in the community for providing high quality services at affordable prices to our community.

- We have a beautiful location with peaceful grounds for your loved ones to visit and enjoy.

- There is always someone available to answer your questions. We are committed to excellent customer service.

So, before considering our competitors such as KY Green funeral directors, Heritage & Sons and Legacy funeral services, why not give us a phone call first and compare our funeral costs and packages? Mears of Aylesbury funeral directors can guarantee you a memorable day on the day of the funeral. We are a proud member of the National Association of Funeral Directors and abide by their code of conduct 24 hours a day.

People who are dealing with the death of a loved one may be looking for ways to support themselves and their families.

There is nothing that can take away your sadness, but there are things you can do in order to make it easier on yourself and those around you during this difficult time.

If you have lost someone dear to you, you may want to look at our funeral home.

Call us today. When deciding on what type of service and memorial would be best for your loved one, contact our professionals at Mears of Aylesbury. Our funeral directors will take care of all the details so you don't have to think about anything other than mourning your loved one's death and saying goodbye.

We handle everything from transportation, to catering and paying final respects. Our team at Mears Family Funerals has been helping families in their time of need for over 95 years and we are fully licensed to provide our services.

From basic cremations, all the way up to full funeral services, we have the right package for everyone.

This way you can put all your energy into grieving because our team of professionals will handle everything else. We understand that this is a difficult time but let us help make it easier by taking care of absolutely every detail so you don't have to worry about anything other than saying goodbye to your loved one in the way that best suits their life.

We take pride in our funeral services and will work with you every step of the way to ensure that this experience is as easy on you and your family members as possible so we can all come together during these difficult times for everyone involved. Contact us today via phone, email or social media if you need any further information about our funeral services or packages.

Our funeral director is dedicated to giving you the best possible service. We cater to your specific needs and provide guidance every step of the way during this difficult time. Our experienced staff will answer all of your questions, help with paperwork, stay in touch while you are out of town if necessary, support your decisions, and do everything we can to make this process as easy and stress-free for you.

We have top notch facilities, vehicle, and services to help make the funeral a beautiful tribute to your lost loved one.

Our Aylesbury funeral home is located in a friendly and comforting area of town where you will be most comfortable during this difficult time. We understand how important it is to honour your loved one by providing an exceptional memorial service, and we will work with you to create the perfect funeral for your loved one.

Here at Mears of Aylesbury, we have a deep understanding of the funeral process. We are here to help guide you through this difficult time and ensure that everything goes smoothly for your family during these tough times.

Call us on 01296 593121 to discuss how our funeral services can support you.