Uniquely available from Mears Family Funerals we present our handcrafted Oval Willow coffin.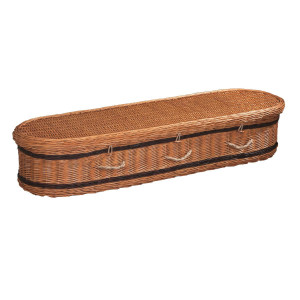 Sturdy and strong this coffin has been commissioned especially to meet our high standards.
Used for both Cremations and Burials. One crematorium that is at the forefront of eco-funeral planning is Croydon Crematorium. It gives a discount when an environmentally friendly coffin, such as this, is used. On display at all our branches in our Coffin showrooms.

Priced at £3,600.00 with our complete Funeral Service, (Hearse and one Limousine on day of the Funeral). The coffin can be dressed in seasonal fresh flowers direct from our own in-house Funeral Florist. The floral colour scheme can be of your choice and you can discuss directly with the florist who will be arranging the flowers. This at an additional charge depending on flowers used. With our Glass Backed Hearse this coffin looks elegant during the cortege. 
Sustainability
Willow grows extremely quickly, in one season, which lasts from late May to early October, a single rod can reach up to 8ft long. New willow beds are planted in the spring using pieces of willow from the crop harvested during the previous winter. With careful management the plants can last up to 30 years.
See our 100's of reviews and leave your own