Elmers End Cemetery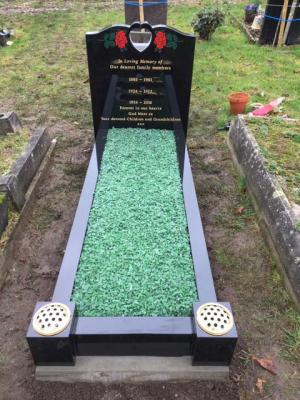 Black Granite Full Kerb Memorial as our
NM-157 Elmers End Cemetery Section G12
This highly polished black granite memorial shows a cut out heart shape within the profile of the headstone shape, sandblasted and painted rose designs enhance the shape.Green chippings finish off the garden area of  this stunning memorial.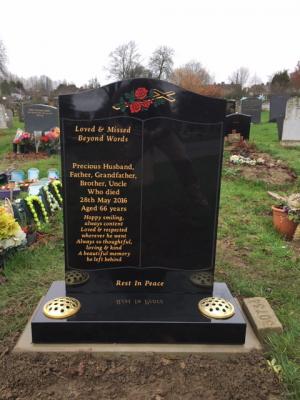 Black Granite Lawn Memorial With Book Design Elmers End Cemetery Section O11
This black granite memorial has a outline book design with a cross & rose design to the top centre, finished with a ground anchor system and space on the right hand page for a further inscription.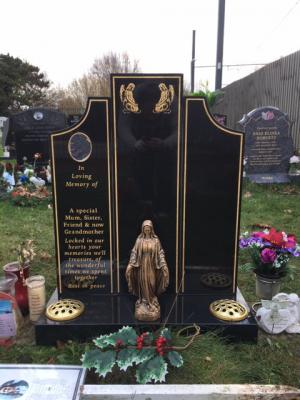 Black Granite Three Panel Lawn Memorial Elmers End Cemetery Section GG
This memorial is a wonderful example of a three panel memorial, all showing a gold keyline and gold Angels, the shaped wing panels are used to display the inscription. The 'Our Lady' statuette in bronze effect finishes off this memorial. Matching gold topped flower containers allow for plenty of space for flowers to be displayed.
Ruby Red Full Kerb at Elmers End Cemetery Section K11
This magnificent hand carved angel stands proud over this memorial as a symbol of love.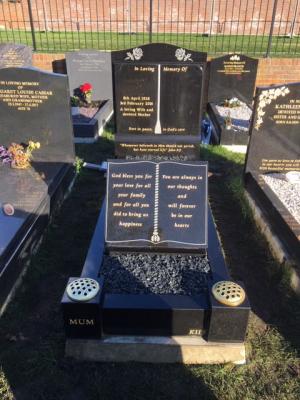 Black Granite Full Memorial With Carved Book To Face
This memorial is complimented with the choice of black chippings to the garden area and an additional sandblasted book design to the foot tablet. 
Back to Installations